Choosing the right wine can prove to be a real dilemma! Who has never found themselves clueless in front of an aisle with simply too much choice? What you need in cases like this would be for a genie to appear from a lamp and provide you with expert advice. Well, this is exactly what happened (more or less…) at three Intermarché supermarkets in France in recent weeks.
For the 2017 Wine Weeks, we designed, deployed and tested a "remote on-demand advisory service" with the major French distribution chain.
The idea behind it is of course to satisfy the client base, and ensure that any and every customer can get tailored recommendations if they so desire from Hervé Gourdin, an expert sommelier who can now be in more than one place at once!
Thanks to an on-demand remote steering system, the device was able to meet client requests simultaneously at three different points of sale that were part of the pilot project, namely Orgeval, Mantes-la-Jolie and Louviers.
This is how the customer experience works, courtesy of a system that was developed through close collaboration between Awabot Solutions and Awabot Intelligence.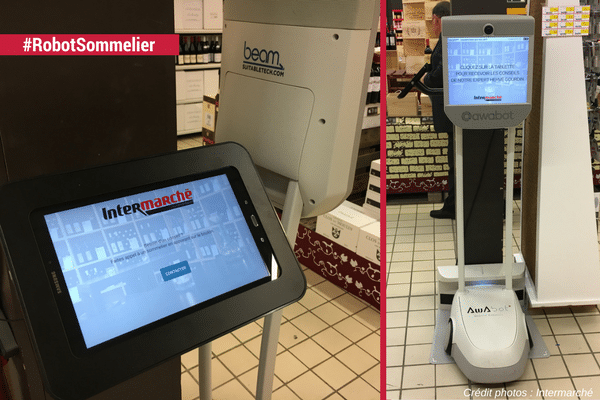 In-store, the customer needs the advice of a sommelier:
he or she makes this known using a tablet which is fitted with an application which we have specially developed for this equipment.
The request is registered and transmitted to the sommelier, telling them which store and which remote robot are involved.
Based on his availability, Hervé Gourdin goes on-line to provide the customer with the best possible advice, and most importantly to guide them around the wine aisle, based on the recommendations.
The main advantage of a system like this for a brand such as Intermarché is to leverage expert resources, particularly those that are less readily available, and above all to meet customer demand at the right time and in the right place, all while maintaining the human touch.
According to the conclusions of a recent article published by the Les Mousquetaires group on their website, the results of the test phase were highly positive.
"Customer feedback was excellent. After this test phase, Intermarché's Innovation teams began to look into how to deploy this concept. Other sections of the supermarket could also use this innovation that is currently the only one of its kind in the retailing sector."
This could therefore be the beginning of something big…
If you are working on a remote presence project or are simply looking to find out more, then please get in touch with us as soon as possible!
Contact