According to a report by Agefiph in the first quarter of 2017, one out of two people will fall victim of temporary or definitive disability in the course of their lives. A fact that invokes the duty of employers to provide their employees in difficult situations with solutions to keep them in work as easily and as comfortably as possible.
First, it is important to remember the issues facing disabled workers, such as limited mobility. For logistical reasons, and due to the costs incurred, movements inside the company can become tiring day after day, or even complex when the company has several sites, some of which may be abroad.
Lack of motivation to seize opportunities.
Talented employees suffering from a disability may shy away from certain jobs involving travel.
They are penalised when it comes to doing jobs entailing travel.In some cases, company management may prefer a fully fit person for jobs demanding mobility, even if they are less competent.
In the most extreme cases, the famous principle of equal opportunities at work is not respected.
Dealing with the loss of mobility in companies to maintain access to work, and to achieve workers' ambitions.
"The mobile telepresence robot contributed to my professional success, by enabling me to be in the right place at the right time to seize a great opportunity!""
Alexandra, who is hemiplegic, voiced her enthusiasm at a "Training and employment" event. She held a remote interview with a recruiter that opened the door to a position in keeping with her qualifications and her professional ambitions.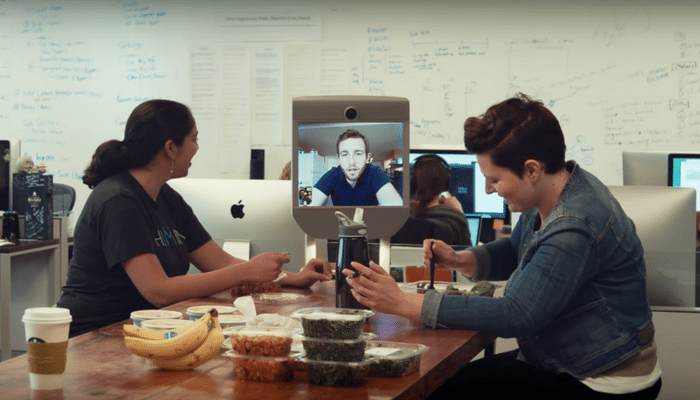 Another example comes from a major corporation,
where an employee successfully managed teams spread across different sites, simply because the sites were equipped with a BEAM mobile telepresence system and, ultimately, he was able to take part in the teams' everyday activities remotely and easily, without having to endure a tiring travel schedule.
The BEAM telepresence solution makes up for the loss of mobility in professional situations, and provides access to the office for disabled talents, or enables employees to stay in work.
Want to know more?Contact us