It has now been two months since I have been telecommuting and I have been using BeamPro and Beam+ telepresence robots to collaborate with my colleagues at a distance and by video, chatting with them in the hallways or taking part in round-table or "stand-up meeting". Assessment of this first telepresence experience.
Pioneer and leader in mobile telepresence, Awabot deploys Beam® robots, produced in France, throughout the world.
Whether for professional use or to promote the inclusion of disabled people, our experts will support you in all your projects.
Let's talk now !
Contact us !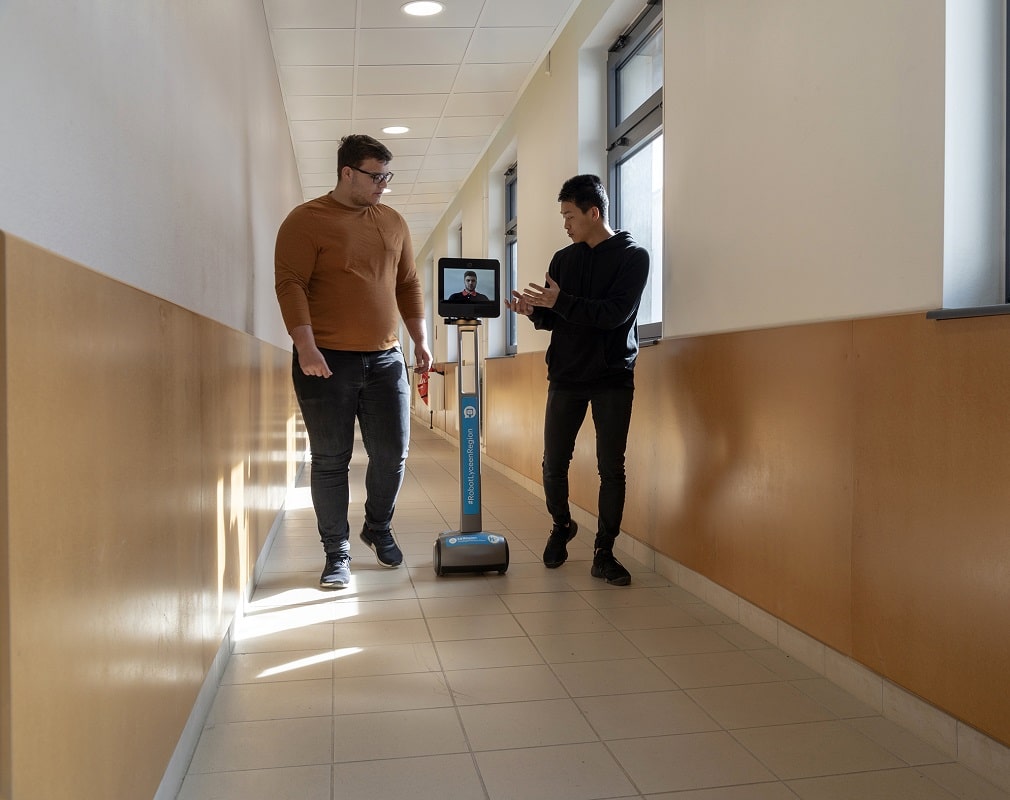 First steps of a video-colleague
I started working in the Communications Department of Awabot in September, but working from home, as do (only) 15% of the French workforce. The company headquarters are located in Lyon and its primary activity is telepresence: two good reasons for me, living in Paris, to become a guinea pig in working from home.
The principle is simple: my BeamPro or Beam+Max robot is in the Lyon office, I am almost permanently connected to my robot and am therefore present in the office, virtually. I can then interact with my colleagues as if I were actually there and take part in the company's important daily events such as meetings, of course, but also simple discussions around the coffee machine, as I can move around in the open plan office. In just one click, I can teleport myself and guide my robot around the site from a distance, thanks to the arrows on my computer keyboard.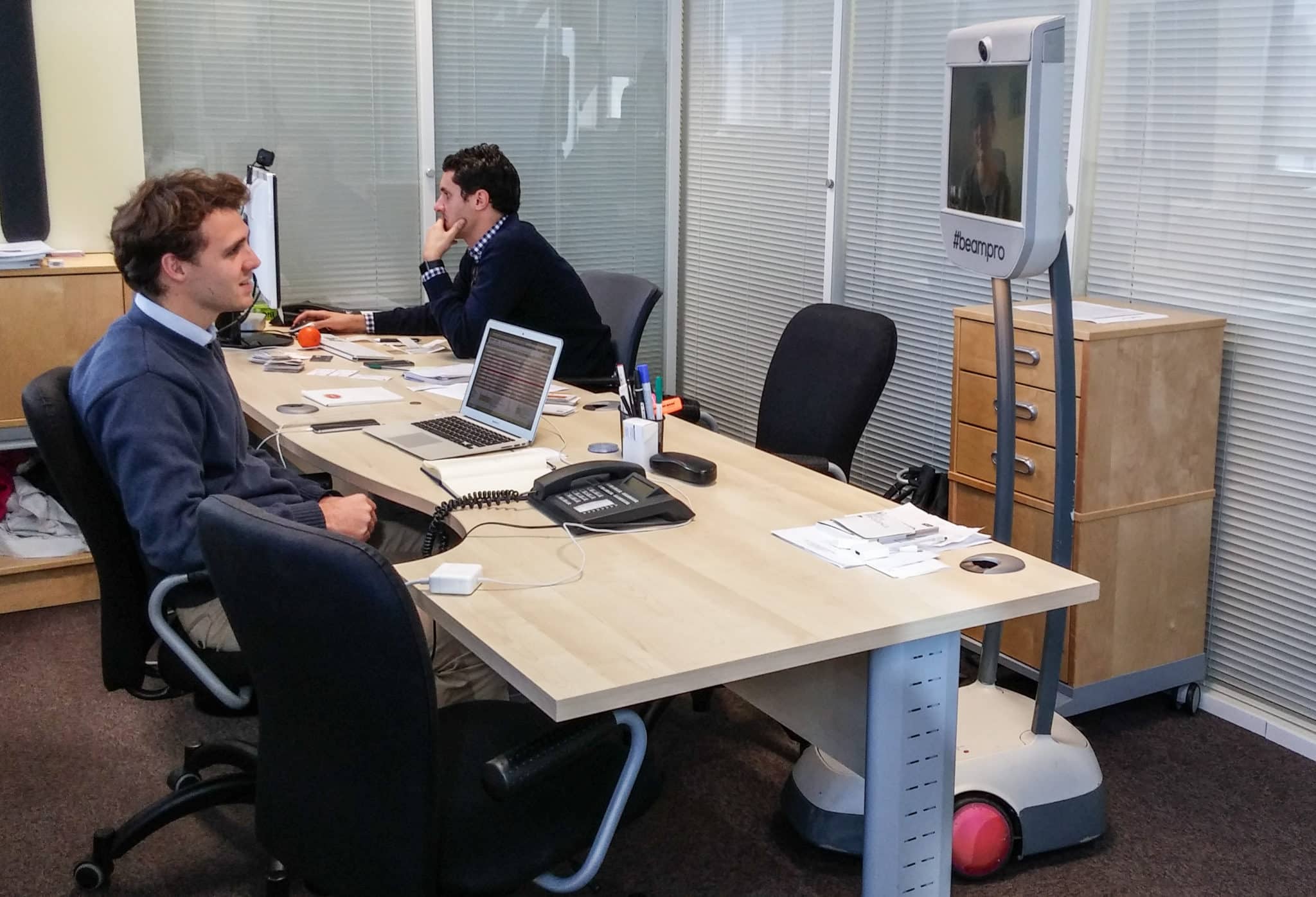 The first feedback
If remote working is still meeting resistance in some European countries such as France, for example, then telepresence systems are credited with stepping over the main stumbling blocks.
Firstly, for the company, the main advantages are:
reducing the cost of my travelling because I no longer have to go to the head office to take part in strategic decision-making;
the possibility of ensuring that I am indeed at my work station whatever the location, and can get there easily;
and another essential detail is the fact that I contribute to reducing society's carbon footprint.
For me as a "beamer", the telepresence robot is a means of :
forging links and gaining the trust of my co-workers, since I see them every day ;
limiting the feeling of isolation that affects many remote workers ;
saving time and energy for my professional life, to be more efficient at work by limiting travelling but also having more time for my private life.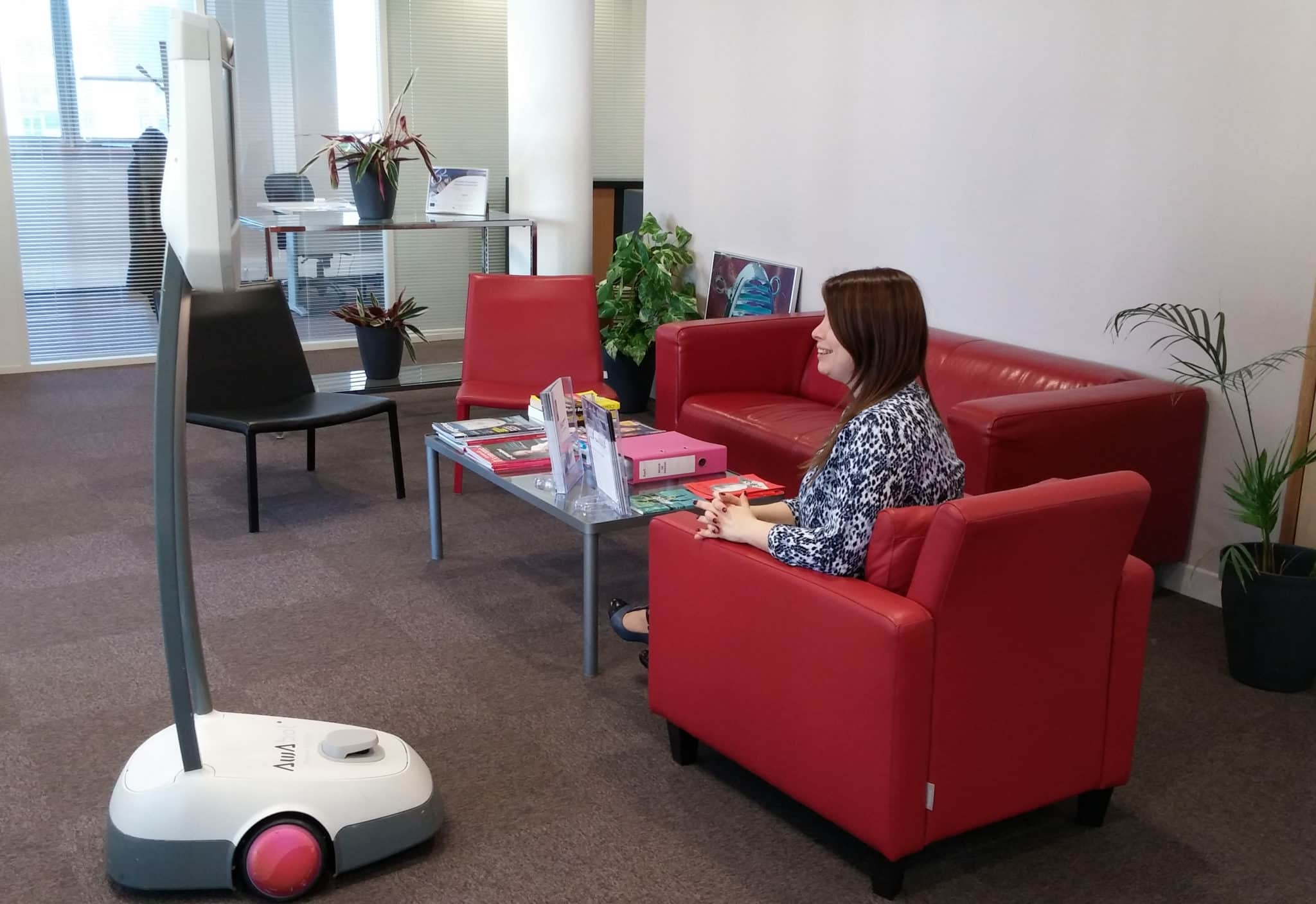 Of course the daily life of a "beamer" includes closed doors which are impossible to open with a robot. But as is the case in real office life, there is always someone on hand to help out and they are often amused by the situation.
Make an appointment in a few weeks' time to follow this telepresence experience and obtain handy tips and advice on how to get the best from Beam mobile video conferencing robots.