We strive to nurture this spirit all year long, like a good resolution that we intend to keep. In order to reinvent ourselves right from the beginning of January, we have taken a look back at the 7 years of our existence, work, wishes, and, above all, robotic experiences. So we are entering this new era feeling brand new, or almost!
What if every new day in 2018 was an opportunity to improve yourself, and ourselves, and everything we do together? An opportunity to be seized. 365 chances to reinvent ourselves, to experiment, explore, create, innovate, succeed, and smile… What more could we wish you for the new year?
Pioneer and leader in mobile telepresence, Awabot deploys Beam® robots, produced in France, throughout the world.
Whether for professional use or to promote the inclusion of disabled people, our experts will support you in all your projects.
Let's talk now !
Contact us !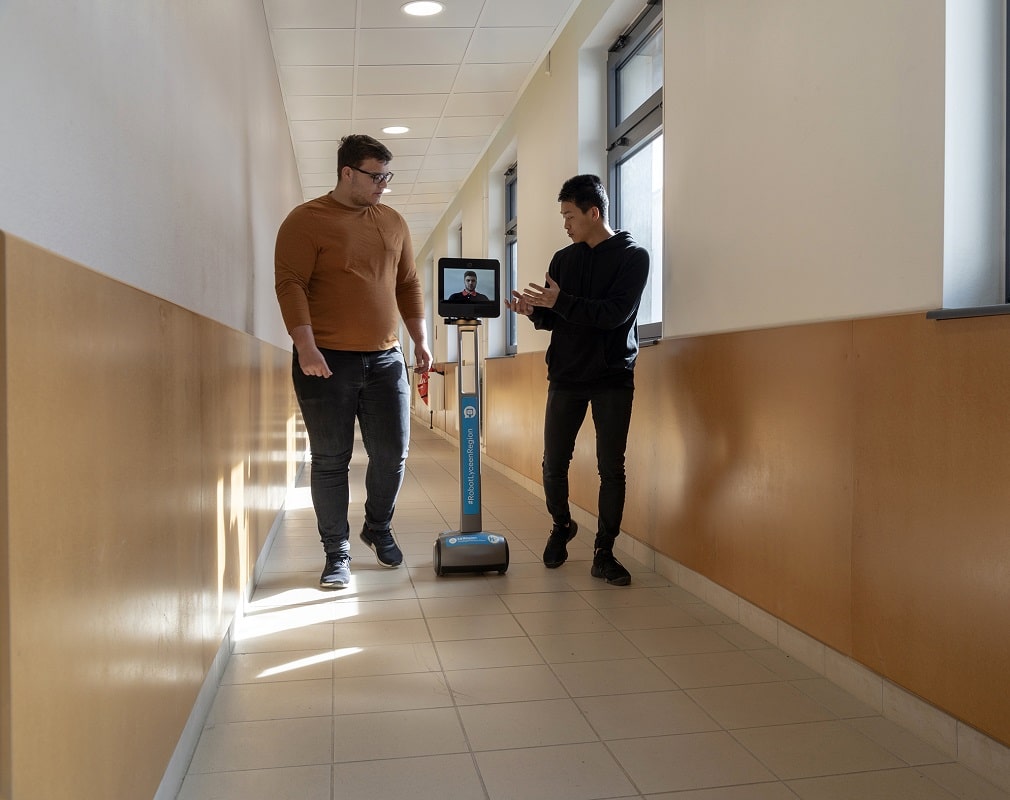 Awabot is reinventing itself in 2018!
As a standard-setter in service robotics, Awabot is the bond that links people to robots.
BEYOND ROBOTICS, because we have a strong belief in robotics that connects, bonds, and enables us to interact with one another. For the doubters amongst you, robotics is first and foremost about people, a technological response to the needs that Man still cannot meet.
Our mission consists of conducting a gentle "Robolution", or a robotic revolution that is enlightened and humanist.
In 2018, Awabot is emphasising its values, with a new graphical identity that reflects this quest for a gentle "Robolution" that is smoother and closer to you.
And with the same red spot, a visual expression of our active observation, that turns blue when:
you work with  Awabot Solutionsdedicated to the identification and distribution of mature robotics solutions, and the leader on its market, with the range of BEAM telepresence robots and the RELAY automated delivery solution;
or green, when Awabot Intelligence shares its expertise with you. Based on the "Robot eXperience", this activity covers consulting services and software developments for robotics design and integration projects.
All our corporate materials will be decked out in this new graphical identity.
In the meantime, join us on Twitter or LinkedIn to (re)discover us and interact, then IRL on the occasion of meetings or events, such as the "Enterprise of the Future" congress on 18 January, of which we are a proud partner with the unique le #PhygitHall system!
A happy New Year to all of you!