Do you want to optimize your experience when you are connected as a telepresence robot? Discover 5 recommendations to follow to maximize your immersion and get the most out of your interactions.
Before you begin, make sure your computer is working and has a strong connection. A wired connection (Ethernet cable) is recommended but not required. Indeed, it is also possible to use a WiFi connection (ADSL, VDSL2, fiber optic). 4G is also an alternative to consider, provided the coverage is good.
As a reminder, the use of the telepresence robot requires a minimum of 1 Mbit/s symmetrical (up and down) in a dedicated network (2 Mb being safer). For its part, the telepresence device consumes between 0.9 and 1.3.
During your session, it is recommended that you avoid any other use of your Internet connection, in order to maximize the quality of your connection.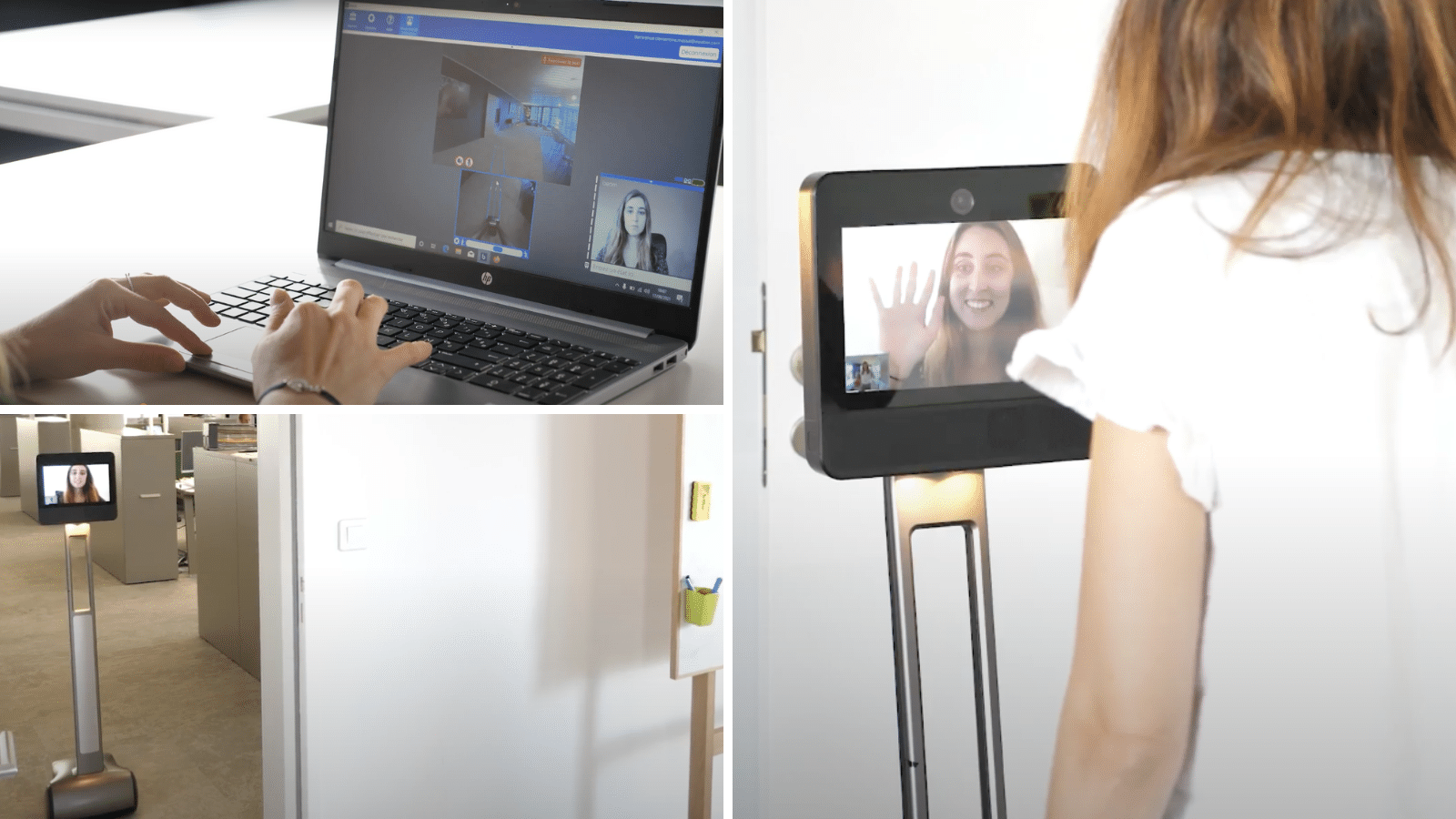 1. Arrange your space
Allocate an area of ​​about 3 m² around you and favor a tidy workstation with a clear, plain background. Keep peripherals (keyboard and mouse) close at hand for easy navigation of the Beam® App and quick access to settings.
Another point of vigilance, the light, very important to allow your interlocutors to see you under your best light. Thereby :
watch out for backlighting and avoid standing with your back to a window. Instead, prefer an installation facing the window in order to have natural light; if you don't have a source of natural light, take care to adjust the brightness or equip yourself with a high-quality HD webcam that can optimize the brightness.
2. Webcam: appear to your advantage in the robot's screen
Keep in mind that you need to focus your gaze on the camera to speak to your interlocutors straight in the eye. Indeed, the people with whom you will exchange will feel your presence more if you look at them face to face.
Position yourself comfortably and face the camera: sit so that your face and shoulder line show. You can use your camera feedback located in the lower right part of the piloting interface to view your image.
Note that the telepresence robot control application does not allow its camera to be deactivated, quite simply because the appearance of your face is key to allowing interlocutors to forget the machine, to concentrate on you, and to promote interaction as close to reality as possible.
3. Volume: optimize listening quality
A "volume" button appears in the functionalities bar of your control interface: adjust the sound level to your liking at the start of the connection.
If you are using a BeamPro®, the "party mode" or "noise canceling mode" is recommended when the robot is used in a noisy environment, in order to reduce ambient noise: this feature can be found in the "Audio" options and s active by checking the corresponding box.
If you connect from a shared space, use a hands-free kit or headset or even a Jabra, guarantees of immersion and a good audio experience.
4. Microphone: adjust sound level
First thing to do when you connect as a mobile telepresence robot: check the volume of your voice with your interlocutors, as mentioned in the previous paragraph. A microphone icon, located in your feature bar, allows you to adjust the sound level of your voice depending on the volume on the robot side. For better voice reproduction, use a hands-free kit or a Jabra.
As a reminder, there is no volume control button on the machine, simply because we humans do not have one. Thus, it is up to you, the user, to adjust the volume at the start of the connection, with the help of your interlocutors.
5. Driving with fluidity
For piloting as precise and secure as possible, alternate mouse (or trackpad) and directional arrows.
As you pass your mouse over the lower screen, the blue lines show you your trajectory and allow you to gauge your passage between two obstacles. The control interface is deliberately simple and accessible to all, with a screen dedicated to interaction, and another to navigation, and without any latency between the perception and the effectiveness of the interaction.
Et vous quelles sont vos astuces pour une expérience optimale ? Partagez vos tips sur Twitter ou LinkedIN en mentionnant @Awabot.
More information about Telepresence Robots
Contact us