Product of Awabot, Awabot S.M.I.L.E is a turnkey inclusive telepresence device, the objective of which is to break the isolation of people with disabilities by recreating links in the family, school or professional environment. As an extension of this offer, the company has designed its own platform, Awabot Smile Manager, developed by Awabot Intelligence, designed to manage, standardize and monitor deployments as part of a global project.
Awabot Smile Manager : managing deployments of telepresence robots for inclusion
A few months ago, Awabot launched the Awabot S.M.I.L.E offer, for Social Machine for Inclusion in Life & Education, and above all because a smile is the first interaction that occurs when an isolated person connects to the telepresence and that it finds its distant interlocutors.
This turnkey offer consists of:
the material device, Including the telepresence robot, a driving kit and 4G connectivity;
adapted support, with training sessions and documentation;
Awabot Smile Manager, an online tool designed to facilitate deployments and monitor the project in real time.
Why use the Awabot Smile Manager platform?
Due to its innovative nature, a social telepresence project requires a clear framework as well as efficient management. Aware of these issues, the company put all its expertise at the service of the design of a fleet and deployment management platform, developed by Awabot Intelligence. This tool makes it possible in particular to standardize and harmonize practices in terms of the deployment of telepresence robots in the service of inclusion.
Awabot Smile Manager: for whom?
This collaborative tool in SAAS mode therefore aims to simplify, supervise and trace all the processes implemented in telepresence projects at the service of inclusion. It is destined for:
people in charge of field deployments, who need to deploy easily and independently;
project managers, to allow them to monitor uses and fleets in real time, thanks to a dashboard and mapping of deployments in a given territory.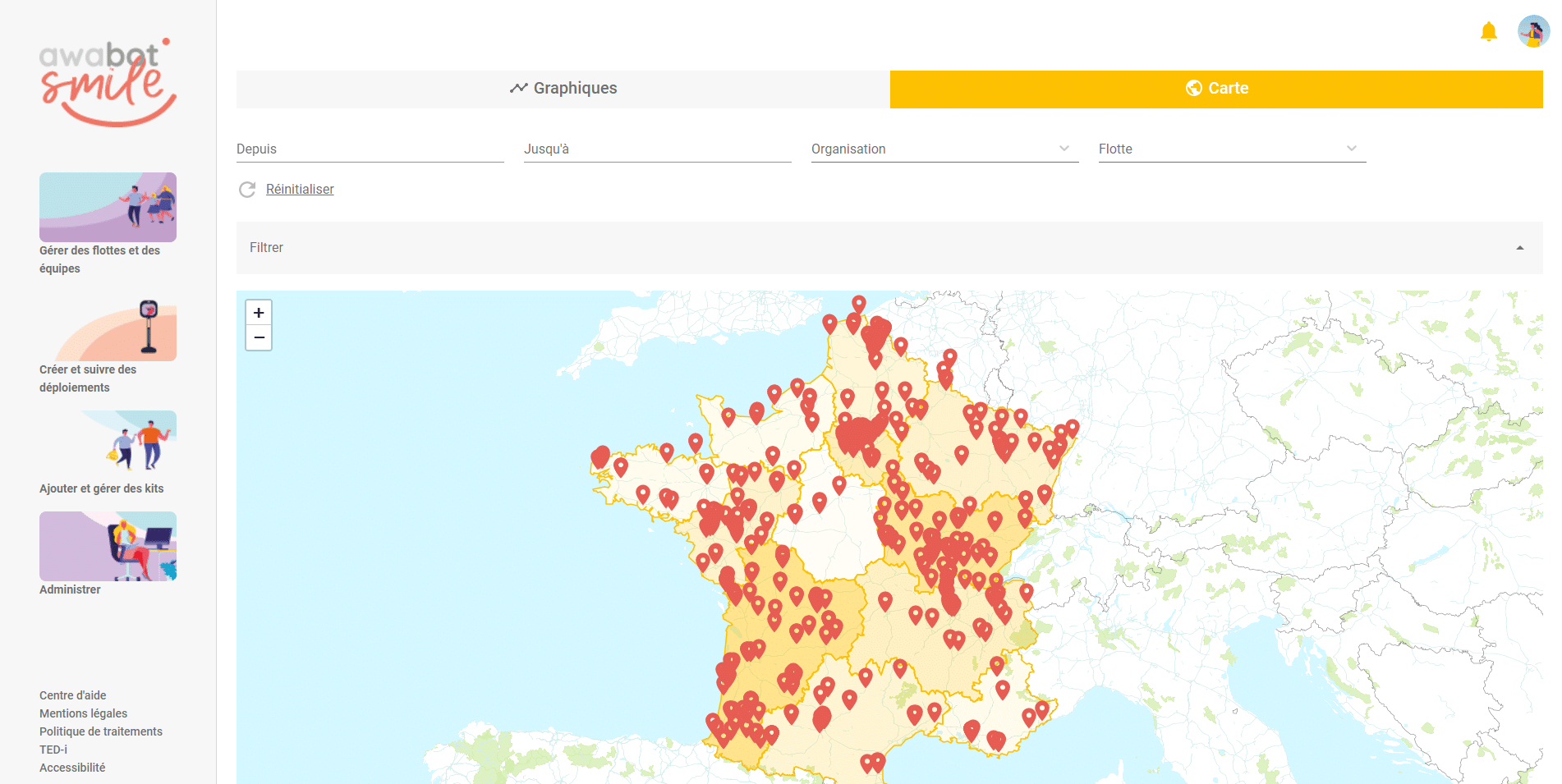 Would you like to obtain a demonstration or build a telepresence project to promote social ties? Contact our team now.