The pandemic has disrupted previously well-established practices in many sectors. Corporate training is one of the areas where changes are most visible, as it now seems very difficult to convince all employees to come and participate in on-site training. However, telepresence could well succeed in reconciling distance and face-to-face training. Let's take a look at Allianz's experience with telepresence.
An evolving world of corporate training
Since the health crisis, the training sector has undergone many changes. Encouraging people to travel to the training site is becoming increasingly complicated, while at the same time they are being given greater flexibility in their workplace. In 2022, a significant decline in face-to-face training can be observed, which now represents only 44% of the training provided. On the other hand, "blended learning", a hybrid training model that combines face-to-face and distance learning, is growing: 39% of the training provided is now based on this format, leaving everyone free to choose whether or not to travel. The problem is that this is often a complex system to put in place, as it involves a double management for trainers: managing the people trained on site, and at the same time, those at a distance. The cohesion of the group and sometimes the quality of the training are altered. Companies or training centers sometimes even end up choosing to return to face-to-face or distance learning. So how can we guarantee enriching, homogeneous and inclusive training, regardless of the presence on site? Telepresence could well be a solution.
Hybrid telepresence training: the right compromise
Why force participants into remote or face-to-face training when telepresence is the ideal compromise? By integrating telepresence into hybrid training, remote participants are guaranteed immersion and a feeling of total inclusion with on-site learners. This is a gain in flexibility that reduces travel costs, the carbon footprint and everyone's schedule constraints. Allianz understands this and has therefore equipped itself with telepresence solutions in order to develop a training program that is ever more cutting-edge and inclusive.
Allianz & hybrid telepresence training

For the telepresence-connected trainees of the Allianz Sales Academy, the experience was a success, to say the least. More than a simple videoconference, the telepresence robots allowed them to fully follow the training sessions by being able to :
move around with their group and actively participate in the workshops ;
be physically present and therefore not feel left out;
participate in breaks, discussions and other more informal moments with their class.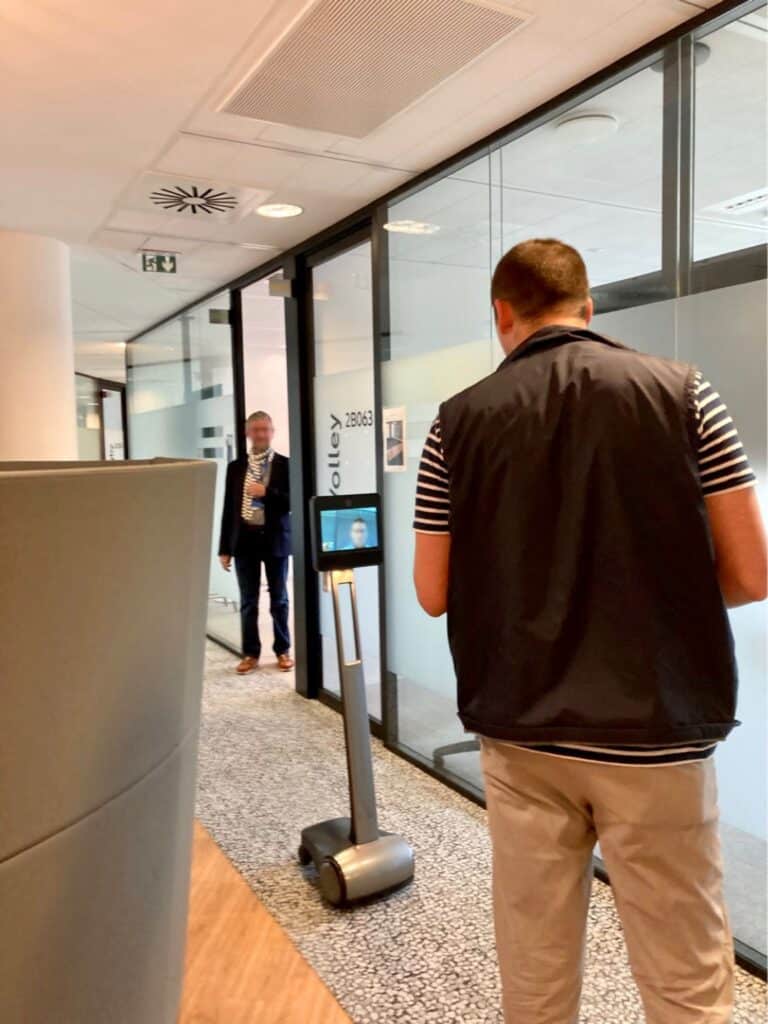 The Sales Academy trainers also appreciated this initiative, as they did not have to manage both on-site and remote trainees. Thanks to telepresence, the latter follow the training from A to Z in complete autonomy. The only prerequisite is a good Wi-Fi connection, and the technology takes care of the rest. Indeed, several features allow telepresence learners to follow their training in a totally fluid way: zoom, screen sharing, sound settings…
Moreover, the availability of telepresence solutions demonstrates that Allianz is constantly seeking to stay one step ahead and to innovate by using new technologies to promote inclusion and human relations.
Are you interested in our telepresence solutions? Contact our team and we will help you design a telepresence project adapted to the needs of your training center.