Odette and Michel have been experimenting with a Beam® telepresence robot in their home for seven months now. Aged 88 and 86, it is a way for them to stay in touch with their children and grandchildren. More than a traditional video conference, telepresence allows them to have their loved ones visit them at home in just a few clicks.
Uses of telepresence robots in the homes of the elderly
I accompany them to every room in the house. Sometimes I even go into the bathroom to make sure they have the medication they need.
It is not intrusive at all. On the contrary, it allows our whole family to continue to have a real connection with them."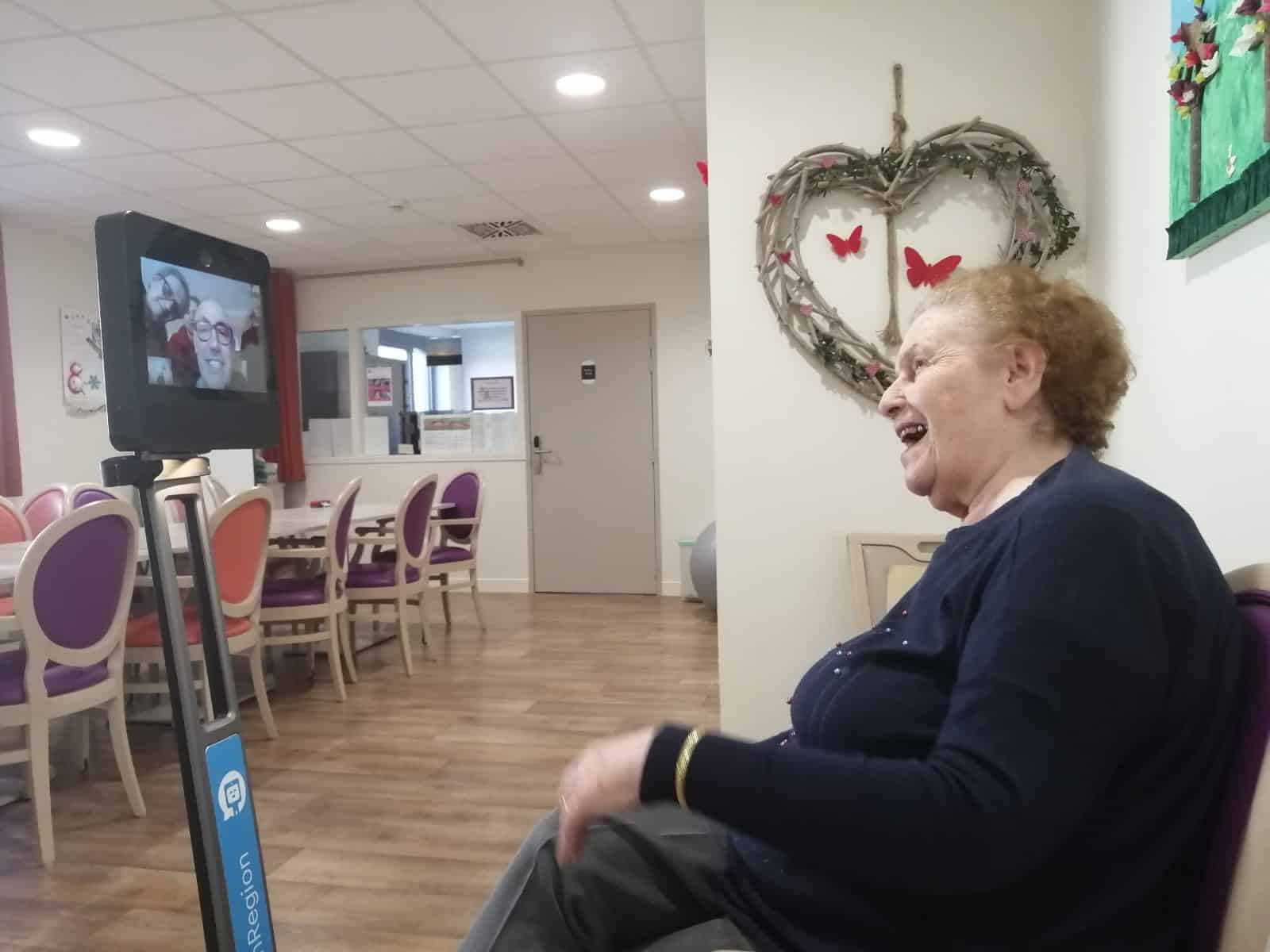 Advantages of the telepresence robot in the home of seniors
As Odette and Michel are more and more unable to communicate due to their age, traditional video-conference calls were no longer sufficient and often proved too complex to initiate. The Beam® telepresence robot made their lives much easier. After being perplexed at first, the device has become an essential part of their daily lives. Now, they couldn't live without it.
A remote visit experience close to the real life
"With the robot, they don't have to do anything," says Dominique. A family member can be with them very easily and quickly, without any constraints. It's reassuring, both for us and for them. Catherine, one of Dominique's sisters, also has much more peace of mind now that the device is in their parents' home:
"When I visit them by connecting to the robot, everything happens as if I were really seeing them. We can talk and move around together in the same way as if I were physically at their side. I follow the same route as a real visit and my parents can continue to lead their lives as they wish."
Telepresence robot communication: easier than a tablet video
Catherine and Dominique definitely recommend telepresence robots in the home of seniors. They even regret not having one sooner, especially during the Covid pandemic. "At that time, we called them on a tablet, but my father doesn't know how to use it properly, so it was quite uncomfortable for him. With the robot, he doesn't have to do any manipulation."
Breaking the isolation of seniors thanks to telepresence Beam® is particularly well suited to isolated populations, for whom social ties are crucial as a cognitive and emotional stimulus.
Deployed during the first confinement in the Auvergne Rhône Alpes Region, this tool is a remote visit service offered to the families of the elderly as well as to external caregivers, who can thus multiply their visits without risking to contaminate the residents. According to a study by the French Institute of Education for the Auvergne-Rhône-Alpes region, 90% of families found it easy to use Beam®.
And you, what do you think of telepresence to serve the link between the elderly and their entourage? Let's discuss it on our social networks! Would you like to get more information about telepresence robots? Would you like to schedule a demo? Contact our team by clicking below.